Mill Operations Program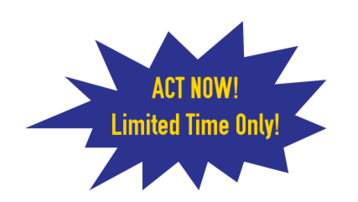 Available online for the first time we are excited to offer the Mining Mill Operations Occupational Endorsement (OE) starting in December of 2017 and ending in March 2018. Employers including Sumitomo, Kinross, Coeur, and Teck have hired from this program. 
Qualified Mill Operators are in demand to fill open positions
Only 17 Credits
All online except for eleven days hands on training in Fairbanks
Identified by Alaska's mining industry as a high priority occupation
Projected to grow substantially between 2014 and 2022
Focused on the skills and knowledge of a mill operator
Eligible students can receive financial aid while completing the program
A mill operator can be responsible for running machinery, reading schematics and plans, job progress monitoring, raw material maintenance, finished product maintenance, machinery maintenance.  The mill operator can be responsible for performing repairs and maintenance on the machinery. 
Contact:
Brian Ellingson, Program Coordinator
(907) 456-1726
beellingson@alaska.edu
UAF Community and Technical College
P.O. Box 758080
Fairbanks, Alaska 99775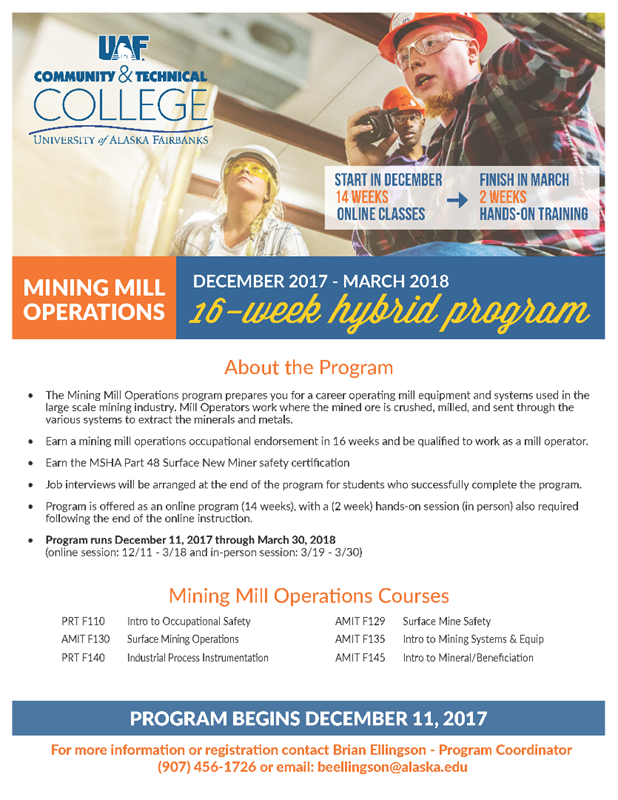 Mill Operations (OE)
UAF | UAA – PWSCC
Starting in 2016 we are excited to be able to offer the new Mining Mill Operations occupational endorsement (OE)*.  The mill operator occupation has been identified by Alaska's mining industry as a high priority occupation and is projected to grow from 28 to 112 mill operators between 2014 and 2022. The Mill Operator training is a three to four month program consisting of a minimum of 16-17 credits of coursework. This design provides a program that is short in duration, focused on the skills and knowledge of a mill operator, and be eligible for students to receive financial aid while completing the program. A mill operator is responsible for running machinery, reading plans and schematics, monitoring the progress of a job, maintaining raw materials as well as finished products, maintaining mill machinery. The mill operator can be responsible for performing maintenance and repairs on the machinery as well. 
Some of the exciting topics that will be covered are: Safety and Induction, Working Safely in Mill Environments, Hand and Power Tools, Lifting Devices, Ladders and Scaffolds, Sump Pump Operations, Handling Reagents and Designated Substances, Service Vehicles and Equipment, Processing Basics, Conveying, Crushing, Grinding, Classification, Gravity Separation, Dewatering, Extraction, Physical and Chemical Processes (Hydromet/Pyromet), Tailings Disposition, Sampling & Testing, General Operations, Transportation of Dangerous Goods, Power Line Hazard, First Aid, Fall protection, Basics of PLC and Operation, Housekeeping, Instrumentation, and a Hands on project.
We are able to offer this through a cooperative effort of faculty from UAF-CEM, UAF-CTC, and PWSCC, with focuses in mineral processing, process technology, and millwright programs, respectively.  This will leverage research and teaching capabilities of three established, industry-connected programs in two different institutions of higher education.
We are also in the process of developing a unique simulator that will benefit not only this Mill Operator program, but all mill operator programs. Mills are more than just one core process, and employer built solutions are not available to those seeking to enter the occupation. Communication with employers has revealed that a mill process simulator that links some of the critical processes (across multiple vendors) in a single software will be an excellent training tool for a mill operator program, as operators can learn about the impacts of their control decisions across different processes. Additionally, mines can use the tool to improve operator skills without impacting actual operations. Developing a mill process simulator will not only help individuals entering the profession, but will also help employed workers enhance their skills, knowledge, and wages. Existing mill operator programs, such as Corona College in Canada, do not include mill process simulators.
*An occupational endorsement is defined as a program of 9-30 credit hours, which offers training in a specific field.